AWS Cloud Migration Services
Rapidly and successfully migrate your applications, data, and infra to the cloud
with the highest standards of costs reduction, security and agility.
Empower Your Journey
to the
AWS Cloud
Cloud migrations are complex procedures with no one-size-fits-all approach, it can be an intimidating endeavor that can be expensive in time and resources.
With operational practices honed over dozens of migrations, Directeam guides organizations through migrations with minimal interruptions and near-zero downtime. We help you navigate complexity, and work with you to determine the right cloud strategy, operating model, roadmap, and ecosystem. We then help you accelerate migration and modernization to Cloud that is Secure, cost-effective, and agile.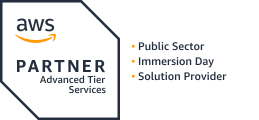 Directeam is an AWS Advanced Partner
What does that mean for you? As one of a very select group of partners with this accreditation,
you can rely on us for top-tier AWS expertise in all things cloud migration: applications,
infrastructure, and databases.
Learn more about Directeam's Migration Success Stories: